September 21 – 22, 2018
Sign Expo Canada 2018 Trade Show Venue
The International Centre – Entrance 5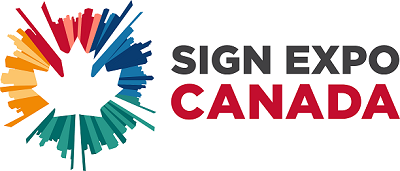 6900 Airport Road
Mississauga, ON L4V 1E8
1 800-567-1199
Hotel Accommodations for Sign Expo Canada 2018
Please ensure you advise the hotel that you are attending Sign Expo Canada 2018 and would like the special discounted room rate.
Primary Hotel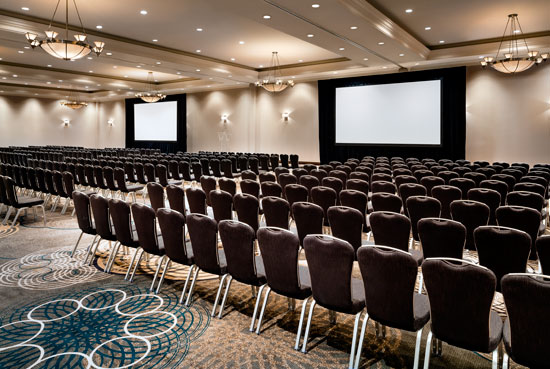 801 Dixon Road
Toronto, Ontario M9W 1J5
Phone: (416) 675-6100
866-932-7058
Book your accommodations now
Alternate Hotel
Crowne Plaza® Toronto Airport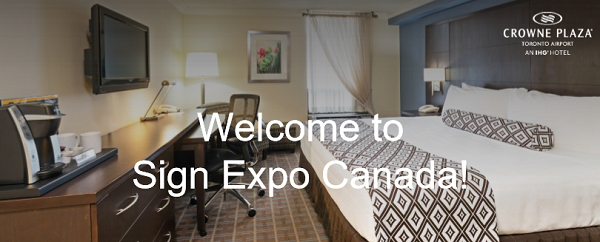 Email: reservations@cptayyz.com
Toll-Free: 1-877-859-5899
Group Code: IGN and group name: Sign Expo Canada
Flight Information

This year WestJet is offering a travel discount for Sign Expo Canada 2018. They are able to offer 10% off Econo and 15% off Plus fares* for travel between Toronto, ON and anywhere WestJet flies in North America. To take advantage of this offer, you will need the discount code listed below. For details on how to complete a booking with these discount codes, please visit: https://www.westjet.com/en-ca/about-us/contact-us/faqs/discount-codes
Travel from September 14 – 29, 2018
Coupon Code: L6KKAW5
Promo Code:   WNR89 (For call in reference ONLY)
You can change or cancel reservations within 24 hours of booking at no charge. Further changes or cancellations can be made up to 2 hours prior to the flight; please note additional fees or charges may apply for each guest depending on fare class booked and differences in fare. Check out our service fees https://www.westjet.com/en-ca/travel-info/fares/service-fees page for more information.

Porter Airlines is proud to offer a 10% discount on available base fares (with the exception of the lowest class fare during a public seat sale) for travel to and from Sign Expo Canada 2018. The discounted fares are available for booking from March 8, 2018 to September 25, 2018 and available for travel:
Location:                                                                                           Dates of Travel:
| | | | |
| --- | --- | --- | --- |
| From: Anywhere in Canada or US | To: Toronto | From: 18/09/2018 | To: 22/09/2018 |
| From: Toronto | To: Anywhere in Canada or US | From: 21/09/2018 | To: 25/09/2018 |
Please book online or through your travel agent using promo code "SACACE".
Porter offers complimentary in-flight snacks and beverages (including beer and wine), GatePorter service for carry-on and access to the Porter Lounge in Toronto and Ottawa, where free Wi-Fi and comfortable, leather seating is available.
The promo code is intended for use by conference attendees and organizers and is not meant for distribution outside of authorized channels. Porter's fare rules and conditions apply. For any questions regarding Porter's services or any pre-travel concerns, contact 1-888-619-8622.